Why is a Crown Needed After a Root Canal.
Need a Root Canal? Let our Coral Springs Dental Office Help.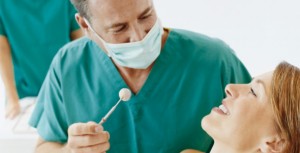 What are the next steps that you need to take when Dr.Barbag says that you need to have a root canal? First thing is to not be afraid. Many people, when they hear that a root canal is needed, will feel that it will be painful or expensive. However, with today's technology, root canals are relatively pain-free and with the financing and payment options our Coral Springs dental office offers, you will not have to worry about emptying your wallet. When you are suffering from tooth pain, don't wait another minute for treatment, call our office today.
When you have been examined and it is determined that you need a root canal, the team at our dental office in Coral Springs will do everything in our power to ensure that you feel comfortable and we will do everything that we can to save the natural tooth. We will go over with you our step by step procedure of what will take place, and what to expect after the procedure. Now, typically a root canal is basically pain-free, but you may feel some discomfort afterward which is completely normal. We will go over with you the foods or beverages that you should avoid afterward for a few days during the healing process. Also, we recommend that you purchase some over the counter pain medications. If Dr. Barbag feels it necessary, he may write you a prescription for antibiotics or pain medication depending on the severity of your treatment.
Once Dr. Barbag has examined you and a root canal is agreed upon, the procedure will start. By first numbing the area then injecting it with an anesthetic, the area will become numb so that you won't feel any pain. Once the area is numb, Dr. Barbag will make an opening in order to clean out the area of infection and decay and then shape it for the filling. Next, the area will be filled with a material which will be a temporary filling to close that opening. After all of this takes place, you must schedule another visit in order to have the crown put on.
Problems with Not Getting a Crown After a Root Canal.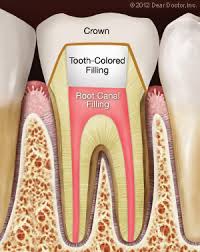 Sometimes, after a person gets the root canal procedure completed, they don't follow up with the next step. That is a bad idea. Why? Because what a root canal does is gets out the decay and infection, but it also removes the pulp of the tooth. When the pulp is removed, the tooth is no longer functioning as a "live" tooth. As time goes on without a crown, the natural tooth will become weak and will crack or fracture. Crowns act as a protector to the natural tooth, this will give you a functioning tooth for chewing. Crowns will also appear to be natural looking and will restore the area. If you had a badly decayed tooth, a crown will surround the area in which you had the root canal making the area strong which a filling will not do. Also, when having a root canal, the dentist may have to remove much of the area in order get out the infection or to get all of the pulp out. A crown will keep that area in place and it will prevent the need for an extraction. Crowns will cost a fee, but not having one will, in turn, create a bigger and more expensive problem.
There are many benefits of a dental crown. Crowns will protect a weak tooth from breaking or cracking or to support a tooth that has a large filling. What will be the process in order to have a crown placed? After the root canal is completed, the dentist will take an impression of your tooth in order to have a model made of a crown to fit your natural tooth. Dr. Barbag uses a local laboratory in order to expedite the process and many times the crown will come back to the office by the next day. Once the crown comes into the office, you will need to see Dr. Barbag again in order for him to permanently cement the crown into place. This process is relatively easy. It will only require numbing of the area and then the crown will be cemented in. If you follow good hygiene procedures, you can expect your crown to last for many years. Continue with brushing at least twice a day, flossing, and using an antibacterial mouthwash. Also, remember to keep your cleaning and preventative care appointments with our office.
Our Coral Springs Dental Office Is Here for You.

At Barbag dental office in Coral Springs, we will work with your budget to ensure that you get the treatment that is necessary in order to have a healthy mouth. We take most dental plans and we will also work with you if you do not have any insurance. Talk to us about designing a payment plan with a payment schedule that can work with your budget. We also offer our patients Care Credit® which is a great financing program that offers an extended payment plan for your care. We will also accept credit card payments from Visa® and MasterCard®. We want to be the dental office that you and your family can depend on. Our office team is made up of experienced and caring staff. We will also do our best in order to get you in for same day dental emergencies if needed. When you or a family member needs basic cleaning, preventative care, cosmetic work, restorations, orthodontic treatment, we can help. Or if you have periodontal disease or need oral surgery, we can schedule an appointment for that as well. If you are interested in laser dentistry, know that we offer the latest in technology for an accurate and less painful experience. Call us today for all of your dental care needs.