Why Are Your Teeth Sensitive? Ask Our Coral Springs Dentist!
Do You Have Sensitive Teeth? Our Dentist in Coral Springs Can Help.
Sensitive teeth can be painful and frustrating. Do you stay away from eating your favorite foods or drinking your favorite beverages because you don't want to deal with the pain? Or perhaps, you do not brush and floss the way that you should because it hurts or your gums bleed. There are many reasons that people develop sensitive teeth, but the good news is, our Coral Springs dental team can help. When you see us for a consultation, we can examine your mouth to determine the best way to help you. We want your oral care to be a top priority and will work with you to determine a plan for the best outcome.
Why Are Your Teeth Sensitive? Ask Our Coral Springs Dentist!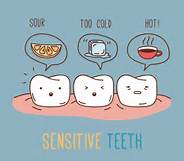 If you have tooth sensitivity, you are not alone. Millions of people see their dentist for this issue and if you live in the Coral Springs, Florida area, our team at Barbag dental is just around the corner. Stop living with tooth pain, and let us help the situation. When you drink something that is hot or cold or eat food that is sweet or starchy, you may experience pain, this most times is due to the gums receding which exposes the root surface dentin. Dentin, by definition, is the chief substance of the teeth which surround the tooth pulp and is covered by the enamel on the crown and by cementum on the tooth. It is made of calcium phosphate and is harder and denser than bone. Dentin is located underneath the enamel of your teeth and also consists of a sensitive layer of living tissues and tubules. The dentin's purpose is to protect the pulp which contains blood vessels and nerves. If dentin becomes exposed, the tubes will be affected by hot or cold temperatures in food and drinks which will cause the shooting pain and sensitivity.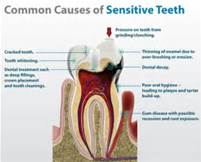 What causes the exposure of dentin and what can you do to prevent it? There are several factors which will cause dentin exposure such as the gums receding. Some of the common factors are a chipped or broken tooth, drinking acidic beverages like juice or soda, grinding your teeth, improper tooth brushing habits, and using an abrasive toothpaste. There are also tooth whitening products that have been known to cause teeth sensitivity. When you visit our dental office in Coral Springs, we can help you to determine what is causing the sensitivity and come up with a plan or treatments to help to reduce the sensitivity. One of the common steps that you can take to reduce the pain is by using a specialty toothpaste and a soft-bristled toothbrush. Another way is to reduce the number of acidic beverages that you consume such as soda or juice. Our Coral Springs dentist will also be able to determine if you will need a fluoride treatment to help strengthen the teeth or maybe you will need a dental restoration to build back up the area with thin enamel. It is best not to just treat the issue yourself because only a dental professional can determine the true cause of your sensitivity.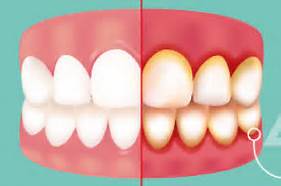 Now, if your gums are bleeding after flossing or brushing, that is another issue of sensitivity which our team of dental professionals in Coral Springs can help with. If you notice blood after brushing or flossing, this could be due to gingivitis, or even worse, periodontitis. The lesser form of gum disease is gingivitis which is quite common. If you have sensitivity in your gums such as them being red, swollen or tender it is most likely to be due to gingivitis, but without treatment, could lead to periodontitis which is severe and can lead to the bone which holds the teeth in place to become weak. If you are determined to have gingivitis, we will most likely schedule for a deep cleaning to remove plaque. You may also be prescribed an oral mouthwash that contains antibiotics.

Our Coral Springs Dental Team Can Give You a Healthy Mouth.
Preventing oral disease is the key to good overall oral health. Whether your teeth are sensitive due to enamel wear, or dentin exposure we can determine the cause and come up with a plan to get you back on track with a healthy mouth. Cleaning and prevention is a very important factor in keeping up with good oral health. By preventing plaque buildup with twice a year cleanings, you will avoid more serious and costly dental problems in the future. Our teeth cleaning and prevention services include digital X-rays, fluoride treatments, oral hygiene aids, exams, teachings on how to properly brush and floss by caring and gentle hygienists. By us working together on your oral health care habits, you will have a beautiful smile without sensitivity or pain. Having a healthy smile will enhance your appearance and give you the confidence to show off your pearly whites. There is no reason not to enjoy your favorite foods and drinks any longer, come to us for an exam and we will improve your teeth and smile with quick and painless treatments. We also accept most dental insurances and will help you to fill out the necessary paperwork for the insurance company so that you can get the most for your benefits. Our dental services at Barbag dental in Coral Springs include not only cleaning and prevention, but also cosmetic dentistry, restorations, periodontics, endodontics, orthodontics, oral surgery, and laser dentistry. We use only state of the art machinery and equipment which will allow you to have treatments relatively pain free. Contact us today to set an appointment. We look forward to hearing from you soon!