Look Your Best For the Upcoming Holidays with Teeth Whitening Applications from Our Coral Springs Dentist.
Look Your Best with Teeth Whitening Applications from Our Coral Springs Dentist.

The holidays are coming soon and that means holiday parties, visits from friends and family, and also it means many photo opportunities. Don't look back at photos months from now and say "wow, my teeth are yellow", get your smile bright and white for these upcoming holiday events. When you want a fast and lasting approach to white teeth, consult with our team at Barbag Dental in Coral Springs. We offer safe and affordable teeth whitening products that will surely outshine over the counter products!
Teeth Whitening Procedures Performed by a Coral Springs Dentist.
Tooth whitening products that are sold over the counter can be expensive and ineffective. Not only that, it typically takes a combination of several products in order to see any type of result. Some of the at home products include rinses, toothpaste, strips, and trays. Then, if you purchase all of these products, you will have to schedule when you eat or drink around the times of the applications. Who wants to do that? The problem with over the counter items is that they are not geared to fit an individual mouth. The trays are a one size fits all type of product, and we know that not everyone has the same size teeth shapes. So, what happens then? The whitening product can clean unevenly. One area of the tooth can be lighter than the other, or one tooth can be whiter than the one next to it. Also, the ingredients that remove teeth stains often times will irritate the gums leaving your mouth sore or inflamed. With gel strips, you typically need to put them on your teeth for up to two hours a day and usually you won't see any effects for about three weeks. With all of the fuss, mess, and possible gum irritation that over the counter products offer, why go through all of the trouble? Whitening treatments by your Coral Springs dentist will surely leave you with a healthy glowing smile that will give you immediate results.

Dr.Barbag and his team in the Coral Springs office can offer you suggestions on the best route to take for teeth whitening options. We can calculate the bleach strength, and also provide custom fit trays which will whiten your teeth evenly. And, because you are getting the procedure done by professionals, you will be monitored for any irritation or sensitivity. Teeth whitening done by a dentist is a very safe and common procedure and will give you a smile that will dazzle others. Using chemicals to whiten such as a bleach component, the discolored areas of your teeth will safely breakdown the organic molecules of the stains and will not affect the tooth structure itself. Depending on the severity of discoloration, you may need a few treatments in order to obtain the level of whiteness that you desire. But, for most with average discoloration, the procedure will usually last for about an hour and will lighten up your teeth ten shades. When having your teeth whitened by a professional dentist, you will have a much more favorable result. Dentists have access to high-concentration gels that you will not find in an over the counter product. Also, Dr. Barbag may apply a light source to increase the bleaching action.
Our Coral Springs Dental Staff Can Help Keep Your Smile Beautiful.
All cases vary as to the length of time that whitening procedures last. Typically, you can depend on having a beautiful white smile from six months and up to two years. Whitening depends on the severity of the stains and also how you take care of your teeth. Once whitening procedures are finished, staying away from drinks such as coffee, red wine, and soda is a must. Also, avoid juicy fruits such as strawberries and blueberries, red sauces, dark marinades and red meats. Think along this term, if the food or drink will stain your fingers or clothing, it is best to avoid them after having a whitening procedure. Don't worry, you can go back to enjoying your favorite foods and beverages after waiting at least 48 hours after having the procedure, just be sure to have these items in moderation as to not stain your pearly whites quickly.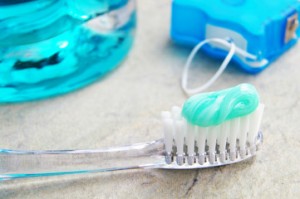 Tooth whitening when done by a dentist will improve your smile and boost your confidence. But by remembering to maintain a good oral hygiene regimen, you are also taking step to avoid further dental complications. Good oral hygiene does not need to be a difficult task, by brushing twice a day with a fluoride toothpaste, flossing, and using mouthwash after brushing, you can keep your mouth healthy and your smile bright. Avoid sweet or starchy foods, they can lead to bacteria that attacks the enamel of your teeth. Also, remember to keep up with your bi-yearly check-ups and cleaning appointments with our Coral Springs dental office. Good hygiene can prevent dental disease and can maintain positive oral health. Our fully professional staff have years of experience and are caring and gentle. Our office also offers financing and payment options to work with your budget. Call us today to schedule a visit for a teeth whitening procedure to get you looking your best quickly. Or, if you have any other dental concerns, we can schedule an appointment to see you as soon as possible. We also take most dental insurance plans including PPO's for your convenience and will help you to fill out all of the necessary paperwork needed in order to help you receive the most from your plan. To see all of the dental services that our Coral Springs Dental office provides, click here.