Have a Missing Tooth? Consider a Bridge or an Implant.
Replacing Teeth with Bridges or Implants. 
No matter if you have recently lost a tooth or if perhaps you lost it years ago. Our team at Barbag Dental in Coral Springs can examine your mouth and offer suggestions on how best to proceed either with a bridge or an implant. There are, however, a few things that you should know about both before deciding on which option is right for you. In the next several paragraphs, we will review the differences of both.
Yes, It does Matter if a Molar is Missing! 
First of all, some people may think why even bother to replace a tooth, especially if it is a molar that no one can see it is missing? You may think that because you have many molars that you can learn to deal with it, or chew your food on the other side, after all who will see it anyway? So why bother going through the procedure and spending the money? Well, unfortunately, there are many negative and costly consequences if you do not replace it. If you have lost a tooth and are using the other side of your mouth to chew, what happens? When you start to do this, you are putting much unneeded stress on the other teeth. In turn, those teeth in time will also become damaged. Another issue is that the food may not be chewed enough, and that will lead to digestive issues. If that is not reason enough to replace the missing tooth, consider this, the teeth next to the empty space will begin to shift. The teeth on either side will begin to move and drift into the missing space. When this happens you will end up with gum disease and tooth decay and you could very well end up with another missing tooth. Have you seen a person with loss of facial tone and jaw shape? This is likely due to a tooth or teeth missing that were not replaced.
Which is Best for You?
So here are your options for a missing tooth. Do nothing and deal with the issues above. Or, the path most recommended would be to talk to Dr. Barbag regarding a bridge or implant. Since choosing to replace the missing tooth is the smart idea we can now discuss the options.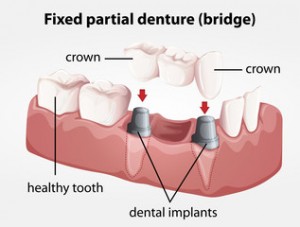 Dental Bridge – Basically a dental bridge is exactly what it sounds like, a bridge that fills the gap from a missing tooth. Anchoring teeth are called abutments; crowns will be put onto the abutment teeth on both sides of the area where the missing tooth is. The false tooth is called a pontic and it will be placed in between the crowns. Once you and Dr. Barbag have decided that this is the best route for you, the abutment teeth will then be prepared for the dental bridge. During the preparation, the abutment teeth will have to be re-contoured so that the crown can be fitted over them. After that, imprints of the teeth will be made. This is done so that the bridge, pontic, and crowns can be carefully made in a dental lab. Once the dental bridge is completed by the laboratory, you will see Dr. Barbag again to fit the bridge in your mouth. Dental bridges are a great way to fill the gap between a missing tooth or several teeth. You can go back to eating your favorite foods and they won't affect your speech in any way. There are not any specific ways to clean the bridge if it is permanent. Simply brush and floss as usual, and get regular checkups at our Coral Springs office.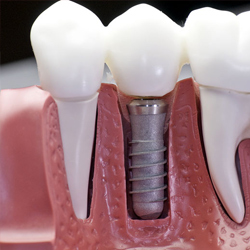 Implants – With the help of modern dental technology, you have more options than just a dental bridge. With a bridge, the teeth on either side of the missing tooth will need to have crowns. With implants, no other teeth will need any work and the empty space will be the only area in which Dr. Barbag will work on. During the exam, we will check to ensure that your gums are healthy and that you have enough bone to support an implant. Once that is established, we can now begin to prepare for the implant. Generally, there are two types of implant systems. One is the Endosteal implant and the second is the Subperiosteal implant. The Endosteal implant is surgically implanted directly into your jawbone. After healing time, a post will be connected to the original implant. Next, the artificial tooth will be attached. The Subperiosteal implant is made up of a metal frame that fits onto your jawbone below the gum tissue. Then as the gum heals, the metal frame will fix to the jawbone. Posts are attached to the frame and then the artificial tooth is connected. Implants usually last a lifetime and need no special care.
Schedule for a Consultation Today. 
Call us today to schedule a consultation! Restorative dentistry offers strength and proper function to your teeth and will allow for a beautiful smile! Don't worry if you need major dental work, we offer payment plans as well as Care Credit®, which is a way to finance the payments. Also, we take most dental insurances and we will always help you to submit the forms to make sure that you are getting the most out of your benefits.
Fun fact! With modern technology now being presented in the dental world, we sure have come a long way. Did you know that in ancient China, they would use carved bamboo to replace missing teeth? Ouch! Also, a couple of thousands of years ago, people would try to replace their lost tooth with one from an animal! Thankfully, science and technology have now given us a much better way to replace a missing tooth or teeth that is not painful or barbaric.