Dry Mouth? Visit Our Coral Springs Dental Office!
Dry Mouth? Visit Our Coral Springs Dental Office!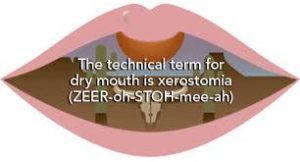 Do you constantly suffer from a dry mouth? Have you tried everything possible from chewing gum to drinking a lot of water but still have this problem? What is the cause, what can you do and is this a dental problem? At our Coral Springs dental office, we can do an examination as well as talk to you about different causes and treatments to get rid of this problem. Dry mouth is very common and can most likely be caused by simple things that you do on a daily basis.
Ask Our Dentist in Coral Springs What Can Be Causing Your Dry Mouth.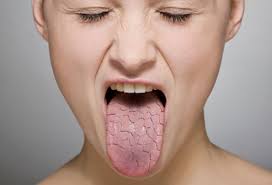 There are several reasons that you may have a dry mouth. Dry mouth can be due to a side effect from the medications that you take. Do you take blood pressure medicines, antidepressants, diuretics, or decongestants? All of these medicines can lead to a dry mouth. Or maybe you have been diagnosed with diabetes, rheumatoid arthritis? Even stress, anxiety, and depression will cause this issue. If your mouth is not producing enough saliva you may experience cracked lips, gum irritation, bad breath, and a dry and sticky sensation in your mouth. When the glands in your mouth are not producing enough saliva, this can lead to more serious oral issues such as periodontal disease, tooth decay, and even to an altered sense of taste. The lack of saliva can also cause more plaque development, bad breath, and problems with swallowing, and speaking. It is important that you see your doctor or your Coral Springs dentist to determine the cause and to learn about treatment. Although you may not be able to stop certain medications if it is what is causing the dry mouth, we can review treatment for it. Your medical doctor will want to review the medicines that you are taking each day and they may be able to adjust the dosage. He may also prescribe you a medication to help to stimulate the salivary glands which will, in turn, produce saliva. Believe it or not, dry mouth could also be a sign of nerve damage of the head or neck Talking to your medical doctor when you have constant dry mouth is very important because there could be an underlying health problem. Some health conditions that are related to dry mouth are autoimmune diseases, diabetes, or a stroke.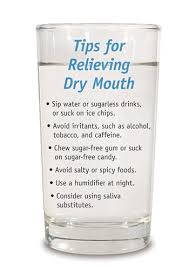 If you have gotten the all clear from your medical doctor but still have dry mouth symptoms, the next step is to speak to your Coral Springs dentist. When you visit our office, we will perform an oral examination to look for thrush which is a fungal disease in your mouth, gum disease, and tooth decay. You may need regular office visits for fluoride treatments which will protect the surface of your teeth to avoid decay. If your mouth is not producing enough saliva, you can develop complications like mouth sores, poor nutrition, and tooth decay. Saliva also has anti-fungal properties which help to control viruses. Saliva plays an important role in moistening food that you eat for easier swallowing and it contains enzymes that promote food digestion. A few things that you can do on your own to better avoid dry mouth is to try breathing only through your nose to avoid dry air from entering your mouth. Chew sugar-free gum. Gum and hard candy will increase the glow of saliva and will help to control the acid that erodes your enamel when you eat and drink. If you do not enjoy chewing gum, you can purchase a mint or parsley bush. These natural remedies will similarly produce more saliva. Another bit of advice is to drink plenty of water. When your body is well hydrated, your mouth will produce more saliva. Make sure to drink water after eating. You can also try and reduce snacking on dry foods like crackers and pretzels. You should also try to stay away from caffeine. There are also many mouth washes that you can purchase at the store that targets dry mouth issues, also, make sure that you are brushing and flossing twice a day. A room humidifier used at night while sleeping is another way to keep your mouth moist. By adding a humidifier in your bedroom, you are adding moisture into the air. When the air is dry, your nasal passages and lungs become dry and will lead to coughing and a dry mouth. If you have dry mouth mostly at night, you probably won't sleep comfortably either. After trying a humidifier, hopefully, you will not have such a dry mouth and you will rest peacefully!
Barbag Dental in Coral Springs Offers Payment Options.
At Barbag Dental in Coral Springs, we want you to have the best oral hygiene that you can. Whatever your oral issue is, we can help. We use only high-tech equipment in order to give you a virtually pain-free experience and our staff is made of caring individuals who make health care a top priority. When you visit our office, you will experience the warmth of our friendly and caring team. Whether you need advice regarding dry mouth, cosmetic dental services, crowns or restorations, orthodontic treatment, or laser dentistry, we can provide these services to you for reasonable fees. We accept most dental insurances and will even help you to fill out the necessary forms in order to get the most back from your benefits. If you require extensive dental work, we also offer payment plans and Care Credit® which is a financing program with extended payment plans for your care. To make an appointment, click here for more information on how to contact us. We look forward to serving you and your family at our Coral Springs dental office.