Healthy Eating Advice For Your Oral Health
Does Eating Habits Affect Oral Health? Our Dental Office in Coral Springs Can Answer Your Questions.
Does it really matter what you eat as long as you are brushing and flossing your teeth properly? Well, that is a great question! Many people think that as long as they brush properly, floss regularly, and use mouthwash that their teeth will remain healthy. So, does food take an important role on your oral health? What are the best and worse foods for your teeth? Can my Coral Springs Dentist guide me in proper nutrition to maintain good oral health?
Advice from Our Coral Springs Dentist.
Basically, a poor diet will most defiantly affect your oral health. If you eat sugary foods and drink sweetened fruit drinks, you are much more likely to develop tooth decay, especially in children! Did you know that when bacteria in the mouth comes in contact with sugar acids are produced and starts attacking the teeth right away? Foods that contain any types of sugar will contribute to you developing tooth decay, and it doesn't matter if it is from a lollipop or a glass of milk. Sugar is sugar, however, your body needs certain types of sugar to maintain health because of the nutrients that are also in the food. If you eat more foods that have added sugars as compared to natural sugars it becomes hard for the tissues in your mouth to resist infections, this, in turn, will lead to periodontal disease which will turn into tooth loss if you are not visiting your Coral Springs dentist for suggested cleanings and check-ups. Tooth decay happens very easily when you are not taking care of your teeth. If you are drinking soda or even sweetened juices, this has a significant impact on your teeth. We suggest that you read the labels on your food purchases. Yes, juice is very good for you, but turn the bottle around and read the level of sugar, and the actual content of juice before buying it. Many juices that we purchase have a very high amount of sugars, or perhaps they only contain a small amount of actual juice and have an abundance of "flavor". This is not saying that you can never have some of your favorite candy bar every so often, but you must maintain a proper balanced diet daily. A proper diet includes raw vegetables, fruit, and anything else on the basic food pyramid. Eating an abundance of "junk" food will not only effect your oral health but also your overall health and weight. The American Dental Association suggests that you eat a balanced diet and if you are going to have in between snacks, choose wisely. Try to eat a piece of fruit, or vegetables. Low-fat or fat-free dairy items such as yogurt are a great alternative to chips, candy bars, or sodas. When you limit the amount of junk food and sodas that you consume, not only will your oral health be better, but also your body!
Will Cleanings From Our Coral Springs Dental Office Help My Oral Health?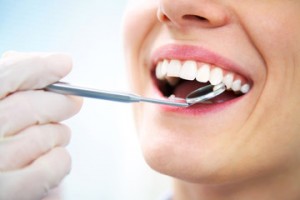 You know how our Coral Springs dental office will schedule you for a cleaning about every six months? This is done to ensure that your teeth and gums are healthy and also, to find potential problems. In order to maintain good oral health, cleanings by our hygienists is a must! Cleanings do much more than scrape out the left-over plaque that you missed! Just like when you go to your doctor for an annual check-up, you need to see your dentist also. Because you can't live without eating and drinking, your mouth is constantly in motion with chewing. The hygienist at our Coral Springs office will use special tools to get rid of plaque build-up as well as checking for potential cavities or gum disease. Gum disease happens when you have an excess of tartar. You will notice that your gums are inflamed and or swollen. It may hurt to brush or your gums will easily bleed. Some people may not notice gum disease at all, or because of the pain that brushing causes, they may choose to only brush for a minimal time, or not at all. When you come to see us, know that we only use high-tech equipment to lessen any type of pain that the cleaning may cause. Cleanings are the key to preventing more damaging and painful issues in the future. Since the hygienist can clearly see what is happening in each area of your mouth, she may suggest that you pay better attention to certain areas. The hygienist can also offer you suggestions on how to brush or floss better for a more effective outcome. One of the main reasons that having healthy gums is that gum disease can lead to heart disease and even dementia. Also, if you are a diabetic, dental issues can increase complications.
If the hygienist notices cavities, then she will bring it to the attention of the dentist. Our Coral Springs dentist will then examine you to determine the severity of the cavity. Once examined, he will talk to you about a treatment plan. Typically, cavities are treated with a pain-free filling, or pulp capping. In more severe cases, a root canal may need to be performed. If the tooth decay has spread to the pulp or nerve than a root canal is most likely the next step. Again, at Barbag Dental in Coral Springs, we only use top of the line equipment in order to perform procedures with minimal pain.
Call Our Coral Springs Dental Office to Schedule a Cleaning!
Now that you have learned about why healthy eating, regular cleanings, and taking care of your teeth are important, it is time to make an appointment at our Coral Springs dental office for a check-up! Our team will do everything that they can in order to make your experience comfortable and pain-free. We take most major dental insurance plans and will help you to fill out necessary form in order to make the most of your benefits. Give us a call today to schedule, and we are always happy to take on new clients!