Yes! You can afford Veneers!
Veneers Can Give You a Beautiful Smile.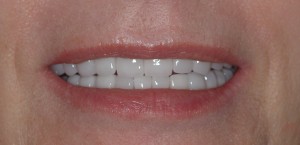 Everyone wants a dazzling Hollywood smile, so how can this be achieved? Veneers are the answer when you want a fresh beautiful smile! Veneers are an amazing way to change the size, shape, and alignment of your teeth as well as filling in any gaps between your teeth that you may have. In the past, veneers were only for the rich and famous, but with advancements in the dental field, anyone can afford to enhance their smile. Can a visit to your Coral Springs dental office give you the smile that you have been dreaming of? Call us today to get started!
What Do You Need to Know About Veneers?


Ask yourself why you feel the need to correct your teeth. Are your teeth discolored, crooked, gapped, chipped, sensitive, or decayed? Perhaps you had dental work years ago and are now noticing that those teeth are looking worn and dingy. If you have answered yes to any of the above, then you will most likely make the perfect candidate for veneer placement. Before deciding with your dentist if veneers are right for you, you should learn some basic information on what they are, how they enhance your smile, how to care for them, and a few other facts about them. So let's discuss these topics to give you a better understanding of veneers.
Will veneers help you to achieve a healthy, beautiful smile? The answer to this question is yes! Veneers will create a natural smile by placing thin pieces of porcelain over your natural tooth. Don't worry that the veneer will not match the natural surrounding teeth, your Coral Springs dentist will create the veneer's color to match perfectly. Veneers are "made to order", meaning that they are customized to each individual patient.
Do veneers require special care? Not particularly, just as you would floss and brush your natural teeth, this is what you will do to the teeth with veneers. It is suggested that staying away from teeth staining drinks is a plus to ensure the color remains intact. Your dentist or oral hygienist will be able to advise you of the food or drinks to limit when you have veneers.
What is the Procedure When Getting Veneers?
When getting veneers, what will the procedure be? Generally, you will need to visit your Coral Springs dental office three times to have the procedure completed. The first time visit will be for a consultation to determine exactly what you want to change. Then you will need to make one or two more appointments to have the veneers made and applied. Before the veneer is placed over the tooth or teeth, your dentist will need to remove a very small portion of the natural tooth's enamel from the surface. This is done so the veneer will be placed flush with the other surrounding natural teeth. After that is completed, then a model will be made of the tooth (teeth), the reason a model is made is so the laboratory can construct your veneer. Depending on where the lab is located, the veneer can take up to a couple of weeks to arrive. At Barbag Dental, we use a local laboratory so our patients will not need to wait weeks before the veneer comes into the office. By using a lab that is in the area, we can be sure that you are getting quality products within a day or so. Also, if there is a problem with the fit of the veneer, you will not have to again wait for several weeks for the replacement to come in. Lastly, the veneer will need to be bonded to the natural tooth. This is done by cleaning and polishing the natural tooth so that the bond holds in place. Dental cement is then applied to the veneer which is then placed on the tooth. Dr. Barbag will use a light beam to activate the chemicals in the cement which will harden it to your natural tooth. Since veneers are not a surgery, you will have no downtime after this procedure and can get back to work, school, or with visiting with friends right after your appointment. Overall, the procedure is not a hassle, but ensuring that the veneers fit and look well is the key.
Can You Afford Veneer Treatment?


If you feel that veneers will be the perfect way for you to get a "Hollywood smile" then talk to a staff member in our Coral Springs Dental office to set up an appointment. Our office staff can review payment plans to fit your budget as well as offering Care Credit® which is a type of financing program that will allow for extended payment plans for your dental care. You shouldn't allow the worries of treatment cost to stop you from getting a beautiful smile. Whether you need basic dental work, restorations, oral surgery, or want a cosmetic dentistry procedure done, we can work with your budget. We also accept most dental insurances including most PPO's. In our Coral Springs office, our goal is to provide all of our client's high-quality dentistry and offer them affordable fees. Call us today to schedule an appointment. We love new clients and welcome all ages. Don't forget, if you are having a dental emergency, call us right away and we will do everything possible to treat you as soon as possible!