Family Dentistry in Coral Springs.
Ask Our Dentist in Coral Springs About the Effects of Pacifier Use.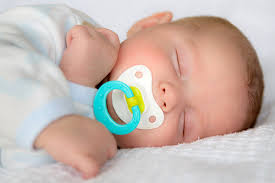 The good ole pacifier! It has comforted babies as well as parents for a long time. Comfort for the baby who needs it and comfort for the parent whose baby is dependent on it. Millions of parents give their baby or toddler a pacifier to calm them down or satisfy the sucking reflexes. But, is the right thing to give them? The answer to this will most likely depend on a few things. For example, if you allow your child to use it past the age of six months. There are often arguments to if a parent should allow their newborn to develop the habit of relying on a pacifier, and our team at Barbag dental is here to answer some of your questions. So, let's discuss some of the pros and cons of its use.
Pacifier Pros and Cons From A Coral Springs Dentist.
Although research does not know exactly why, pacifier use has been known to lessen the chances of SIDS from occurring. SIDS is sudden infant death syndrome. Some say that babies don't sleep as deeply when they are using a pacifier, therefore, they may wake more frequently. If your baby has eaten all that he or she should from the bottle or breast but still behaves as if they are hungry, a pacifier may help to reduce their fussiness because they will continue to suck on the pacifier. Pacifiers also seem to have a calming effect on babies as well as little toddlers. However, breaking the habit may prove to be very difficult for both parents as well as your little one. Breaking the habit is a must though. Not only for the dependency but also for the proper formation of teeth. When you visit our Coral Springs dental office for your little one's checkup, we can also make suggestions as to how breaking the pacifier habit can be easier.
Like any habit, your baby can become very used to having the pacifier and will have a hard time giving it up. It is best for parents as well as other caregivers in your child's life to be on the same page when you are weaning him or her off of it. If your child goes to daycare, be sure to tell the workers that he or she is only to have the pacifier at specific times, and also with grandparents for example, let them know that you are weaning the baby off of the pacifier and ask that they do not give it to them any longer. Most pediatric doctors feel that weaning should be around the age of six months old. Six months is a good age, due to the fact that SIDS is less like to happen and at that age ear infections become more common.
Now for tooth development, will a pacifier actually cause harm? Well again, this will depend on the age in which the pacifier is not being used any longer. If the infant is young, then no, a pacifier will not harm the development of the teeth. But if you allow your child to continue using the pacifier as a toddler, then yes, the risk will be higher for him or her to have misaligned teeth. The American Academy of Pediatric Dentistry states that the long-term usage of pacifiers will have an effect on the way the shape of the baby's mouth forms and alignment of teeth development. If a pacifier is used during teething time, the pacifier can push the front teeth forward over time. This will cause them to become crooked or the toddler will develop issues with their bite. If you simply cannot wean your baby by the age of six months, you must do so by the age of two.
Family Dentistry in Coral Springs.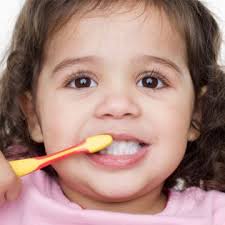 Teaching your toddler good oral health practices is a great way to make sure that they will keep in good practice for their entire life. When you start oral health practices early, they will develop a routine that will help them to avoid major dental work in the future. Tooth decay is very common in toddlers, but there are many things that you as a parent can do to help prevent it. For example, don't let your baby go to sleep with a bottle of milk or juice. The sugars in these beverages will start the teeth decay early. Although permanent teeth do not develop until around the age of six, teaching healthy oral habits early give them the foundation and know how they need to establish good dental care habits. Starting off, you should daily wipe down your baby's gums with a soft wet cloth. Not only will this get out the milk residue, but it will also get them used to the feeling of a toothbrush when their first teeth start to appear. By the age of one, you should call our Coral Springs dental office for an appointment. We can check out the progress of these little teeth coming in to make sure that they are developing properly. Let your toddler come into the bathroom with you when you brush your teeth, he or she can watch you and will most likely be interested in what you are doing. By letting your little one see what you are doing, he will have an idea of what to do himself. Start off by brushing his teeth for him and then as he becomes more used to the feeling, he will want to take over for himself. This is a very encouraging step, but always be sure to supervise the process.
We at Barbag Dental in Coral Springs want to see your children have the best teeth possible! Call us today for an appointment. We give our clients a warm welcome and offer many services for the entire family. Our Coral Springs dental office has everything that modern dentistry has to offer including general, restorative, and orthodontics. We are known for our long-standing and high standard of excellence of care to our patients. We look forward to having you and your family as our patients! Click here to learn more about insurances accepted and here for contact information.